Meet Dr. AlJanabi
Mohamed AlJanabi, DDS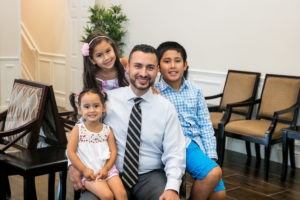 When I found out I needed orthodontic treatment at the age of 19, it truly changed my life. My orthodontic experience shaped so much more than just my smile; it made me a more confident person.
I enjoy creating beautiful smiles for my patients, meeting challenges head-on, and solving problems with my advanced training and knowledge.
Most importantly, I enjoy meeting so many different people from my community.
A Commitment to Knowledge
Prior to dental school, I attended SUNY Stony Brook, where I earned my Bachelor of Science degree in biology with a minor in psychology. I completed my Doctorate of Dental Surgery at SUNY Stony Brook as well, in addition to my specialized orthodontic training. I have a strong interest in new technology and the ways in which it can improve my practice and patient care. Furthermore, I am always very eager to learn from my colleagues, from all parts of the world, as I feel that it is important to be both humble and eager to learn from others. The results of this dedication to continuing my education are better, more effective care for my patients.
Professional Affiliations
Active in the Community
I grew up in Bay Ridge, Brooklyn, attended Fort Hamilton High School, and have lived here practically all my life. My family, as well as my extended family, all live and work in this area. I love the diversity of the city: the people, their cultures, and traditions. I love to learn, interact, embrace and enjoy different patients from all different parts of the world. I am proud to call this community my home and want to do all that I can to contribute to its thriving. I am an active member of the Bay Ridge Dental Society and the Arab American Association of New York, in addition to a number of local schools, after school sporting programs, and other community activities. It is very important to me to give back to the community that  raised me and molded me the person that I am today.
Family Life
My wife and I met right here in Bay Ridge when we were teenagers and cherish our opportunity to raise our young son and daughters in this neighbors. We are also very fortunate to have much of our extended family living close by. The most important thing to me in the world is spending time with my family, from big family outings to attending sporting events like Giants or Yankee games. I am a huge sports fanatic and love to play and watch sports of all kinds. I also enjoy snowboarding, photography, and vacationing when I get the chance.