Invisalign Vs. Incognito Braces in Brooklyn
Invisalign v. Incognito Braces in Brooklyn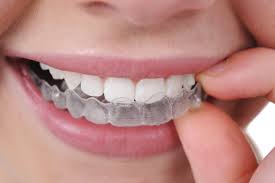 Traditional braces do a great job straightening teeth effectively, however patients—especially adult patients—often find the appearance of traditional braces off-putting and undesirable.Younger patients who are active in sports, play wind instruments, or model may wish to select a more discreet straightening methos as well. There are many orthdontic alternatives to traditional braces available to patients at Dr. AlJanabi's Brooklyn practice. Two of these–Invisalign and lingual braces, better known as Incognito braces–offer patients the opportunity to improve their smiles discreetly. So which system is right for you?
The Hardware
Invisalign offers a customized series of custom fitted plastic aligners that gradually move the teeth into their desired position. Using 3-D imaging, the orthodontist maps the teeth and creates a computerized model of the progression of your treatment. This 3-D modeling is used to create the nearly imperceptible 3-D aligners used throughout the treatment. The aligners are made of a thin, clear plastic that fits snugly over the teeth.
Incognito Braces also known as lingual braces fit behind the teeth as opposed to over like Invisalign or in front like traditional braces. Because of this placement, Incognito braces are significantly less noticeable than traditional braces. Incognito braces also utilize 3-D imaging to scan and custom fit the brace to your mouth. Unlike Invisalign, Incognito braces are permanent.
Eating & Drinking
Invisalign aligners are completely removable which allows wearers to set the appliance aside to eat, drink, and maintain oral hygiene. The removability offers total freedom in dining situations and allows patients unencumbered access to floss and brush their teeth.
Incognito braces are permanent and therefore cannot be removed for drinking or dining. Incognito wearers need to restrict their diet to avoid many of the same hard or sticky foods that traditional braces wearers do. Gum, candy, and other food that can damage the appliance need to be avoided.
Visits to Our Brooklyn Office
Both Invisalign wearers and patients with Incognito braces come in to the office for regular evaluations and monitoring of progress. Incognito wearers get in office adjustments as traditional braces wearers would. These adjustments can cause minor soreness for a couple days after the office visit.
Speaking
Incognito wearers experience little to no speech impairment because of the lingual braces whereas there is an initial adjustment period of adjustment with the Invisalign aligner.
Effectiveness
Both Invisalign and Incognito braces are very effective at achieving the results they promise. However Invisalign aligners are only appropriate for patients who need minimal alterations to the alignment of their teeth. Patients with more complex bite deficiencies or who require significant shifting will find more success with Incognito braces or even clear braces.
No one course of treatment is right for everyone. At Brooklyn Orthodontics we work with you help select the best option for achieving the straight smile you desire. While the technology behind Invisalign and Incognito braces offer relief from the social stigmas associated with visible braces, ultimately patients need to select the treatment that will provide superior and permanent results. Call our Brooklyn office to set-up a consultation today!